There is no heaven on earth but there are many pieces of it. And one of them are the hills!
Hills are a flawless combination of beauty and peace.

They gives us a sign of joy and freedom. Travelling to hills is amazingly exciting.

A hill station's beauty is complimented with the exotic hotels it holds. So that's what we have got for you! Here's a list of hotels in the hills which are filled with luxuriousness and richness.
Mary Budden Estate, Binsar
Budden estate sits on five serene acres of land, perched at almost 8,000 feet above sea level in the Kumaon Hills. It is one of only five privately owned estates in the Binsar Wildlife Sanctuary.
Lovingly restored for comfortable and elegant living, it still retains its original charm. There are many exquisite cottages here, from romantic to a cottage fit for an exciting family outing.
Image source: Google Images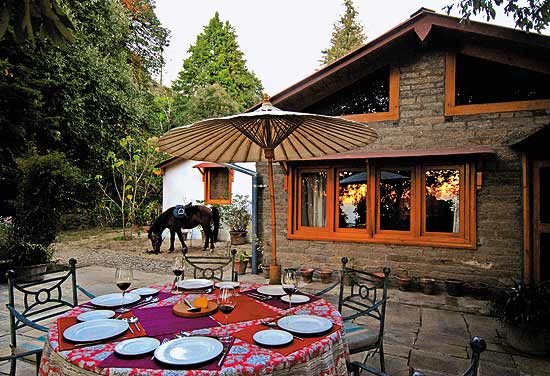 Image source: Google Images
Rokeby Manor, Landour
Willing to know what the phrase "time stands still" is about ?
Nestled between pine trees in Ruskin Bond's neighbourhood of Landour
,
built in 1840 by Captain GN Cauthy , Rokeby Manor has been revived to its original glory with all the marvellous wooden beams, warm fireplaces and elaborate brick arches.
The soothing spot being the hotel's library, a
ceiling and eclectic collection of books will indulge the bookworm in you.
Image source: Google Images
Image source: Google Images
Vivanta by Taj, Madikeri, Coorg
Perched at an altitude of 4000 ft. above sea level, the serene property of Vivanta by Taj in Madikeri, Coorg gives a thrilling experience. 180 acres of vast rainforest encompassing this resort are lined with Coorg-style houses with the sloping roofs, featuring open terraces, private swimming pools and a view that let you experience 250 species of flora.
Each room gives a floor-to-ceiling view of the forests. It houses 62 suites, five private villas and the iconic Presidential Nirvana Suite, generously sprawled across 9,000 sq ft that offers the exclusivity of three bedrooms, a swimming pool, Jacuzzi, a central courtyard and a private chef for in-house dining.
The resort's wooden interiors are all done up in reds and whites.
Image source: Google Images
Image source: Google Images
The Khyber Resort, Gulmarg
Winner of Asia's Best Luxury Ski Resort, the Khyber Himalayan Resort & Spa is placed atop the Pir Panjal range of the Himalayas in Gulmarg, it houses 85 spacious suites.
Nestled amidst locally sourced pines, with exteriors and interiors stand true to the architectural heritage of Kashmir. The resort's pristine beautiful outdoors flaunt a heated swimming pool, mini theatre, a well-curated cigar lounge and a well-equipped spa.
Image source: Google Images
Image source: Google Images
Authored by Chandrima Banerjee
Someone for whom books and food are the only need. Love for history always persisted.